Managing relations involves developing and maintaining good relationships with other groups so that the supervisor's employees and the organization meet their goals.
The supervisor and his or her employees do not operate in a vacuum.  In fact, as organizations become more connected, both internally and externally, the ability to manage relations with other groups has become a key skill for supervisors.  Between human resources, technical experts, regulatory bodies, and internal and external customers, the supervisor usually has his or her hands full in trying to maintain good relationships with a variety of different groups (Kerr, 1986).
Like the other skills, managing relations should be guided by the goals of the organization (Fuller, 1995).  Taking an organizational perspective in dealing with other groups puts the supervisor and the other groups on a common ground and provides a reasonable basis for decision making. 
Communication is crucial to maintaining good relations, particularly with groups that regularly interact with the supervisor (Thompson, 1995).  Keeping other groups informed of plans and keeping abreast of the activities of the rest of the organization ensures that the supervisor's work group will be well positioned to succeed.

Maintaining relations can be stressful for a supervisor when other groups' needs conflict with his or her own work group's needs.  Beyond using the organization's goals as a gauge in external relations, the supervisor should take into account the impact of any external interaction on his or her own employees.
It is important to note that the five Supervisory Skills mentioned above require a fair amount of practice.  The supervisor should not expect to be able to handle every situation from the start.  Keeping a balanced perspective, which includes consideration of both the organization's needs and that of the employees, is key to developing these skills.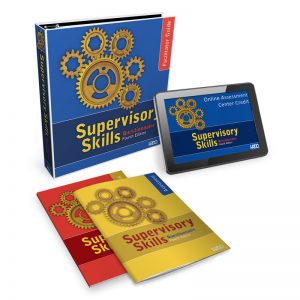 Supervisors are the vital link between your organization and its work groups. Get your supervisors in gear and ready for performance with the Supervisory Skills Questionnaire.
Interested in developing your leader capability? Learn about our upcoming leadership seminars and events. 
Want information about bringing this program to your organization? Contact Us