Organizing the work involves assigning people, equipment and tasks to meet work goals.
Shifting organizational and personal priorities necessitate almost constant reorganization of work (Thompson, 1995). The primary consideration in organizing or reorganizing work is the effect on the organization. Maintaining the needs of the organization as the primary decision criterion is not always easy. It depends on a steady stream of communication and understanding of the priorities of the organization and what is expected from the supervisor's workgroup.
The supervisor must also keep the needs of workgroup members in mind as he or she organizes the work (Bilanich, 1994). Meshing these needs of the workgroup members with those of the organization — needs usually based on different priorities — requires some skill. But whatever decisions are made, the employees should be able to understand them and feel that the supervisor has done everything possible to accommodate their needs.

Organizing the work efficiently often requires the assistance of people more knowledgeable than the supervisor him- or herself. These people may be within or outside of the supervisor's workgroup. Supervisors are often afraid of looking uninformed in front of others and will fail to take advantage of the knowledge resources available (Fuller, 1995).
A supervisor is constantly learning, and what he or she learns from others facilitates the organization of work. Concerns over one's image should not be an impediment to the organization.
Supervisors are part of a hierarchy in their organizations. Working within that hierarchy is critical. It is also critical, however, to have an awareness of the unspoken hierarchy — sometimes called the "informal organization." The informal organization can have a strong impact on the organization of work. When it is in line with the formal organization, the supervisor should simply let it be. Fighting the informal organization is often fruitless work. It is only when the supervisor is aware that the informal organization is working at cross-purposes with the formal one that he or she should intervene (Thompson, 1995).
In our next blog, we will dig into the third of five key skills effective supervisors need to develop: Developing Your Staff.
---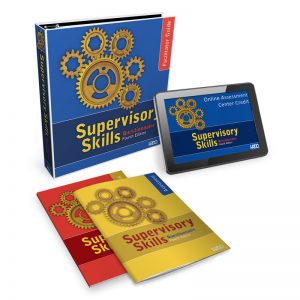 Supervisors are the vital link between your organization and its workgroups. Get your supervisors in gear and ready for performance with the
Supervisory Skills Questionnaire
.
Interested in developing your leader capability? Learn about our upcoming leadership seminars and events.
Want information about bringing this program to your organization? Contact Us